2020 ARTWORK made in BARCELONA during isolation (april-june 2020), selected works, ambient and abstract paintings inspired by the emotion of the society because of Covid19, reflected in art. Thoughts about Apocalypse, 666 Dacian sacred number, The Ressurection of Christ, Hinduistic beliefs on end-of-world and the overall religious system impact on human psyche during one of the biggest medical crisis humanity has ever seen, some would say, really the end of the world. But end is not really bad, if you see the good in it. Maybe it was time to go "Back to the Rivers of Belief" – like in the Enigma song. And end is always, just another beginning. The end of this world as we know, of wreckless hate, misunderstanding, wars …
Like the Smashing Pumpking song states, "The Beginning Is the End Is the Beginning" …
Most paintings showed here were given as presents to the best morale supporters and pandemic fighters of Barcelona, our Andalusian neighbour that used music to keep us alive and awake, shop-owners that kept their smile, beggars on the street. Resilient Barcelona, as anarchist as it can be in its pure form, teaching us how to "Gaudir" life even in the toughest moments. Fighting for independence and their ideas like no tommorow, Catalunya gives us once again a lesson in life, citizen and municipality united in their "Eixample" -type grid of ideas against a common enemy, teaching us that "Tots som herois" .
And teaching us that in the face of the worst enemy in life, facing its futile fate, humanity always Wins. Always ! And that humanity itself can even transform the greatest enemy of a pandemic into the greatest friend, using the biggest Mist to crush all inequities, trash all false ideas, misconceptions, end all religions that expired to hate, killing the man against man endless war of idiocracy, obliterate the unloving domain of psichiatry with the all guns blazing bullets of love and understanding, the machineguns of communication and pushing of others ideas to the domain of the insane, crossing boundaries almost to harrassment, calling the police to put the fire out. Even the Bomberos !
Bomberos or Military, Anti-Terrorist Squads nothing works for me, because questioning others ideas and belief systems can get you emotionally assaulted even by your own family, with death-threats and verbal violence, harassment to the point of divorce. You call the police, turn to the lawyer to sue your parents and brother, plan the divorce, and turn the pandemic into a bigger chaos than already is, taking All to their extremes of their existence until point-break. Well, a friend in need is a friend in deed. In our epic goodness, we just dont see the bad in others. Sometimes the sword is better than the smile, for the smile only fades the pain away, it doesnt destroy it. "I love you, I Kill you" as the Enigma Project song states. Dont play games with the ones who love. Some just understand, that too much is too much, and sometimes, someone … should also stay STOP.
But that does not matter anymore, for the end of times brings the Sun on all humanity, right out from the mist of a pandemic that stopped our route for total self-destruction. A blessing, I guess, as most said that God almost all the time has a plan. This time also 🙂
NUNCA BAIXES A GUARDIA / NEVER DROP YOUR GUARD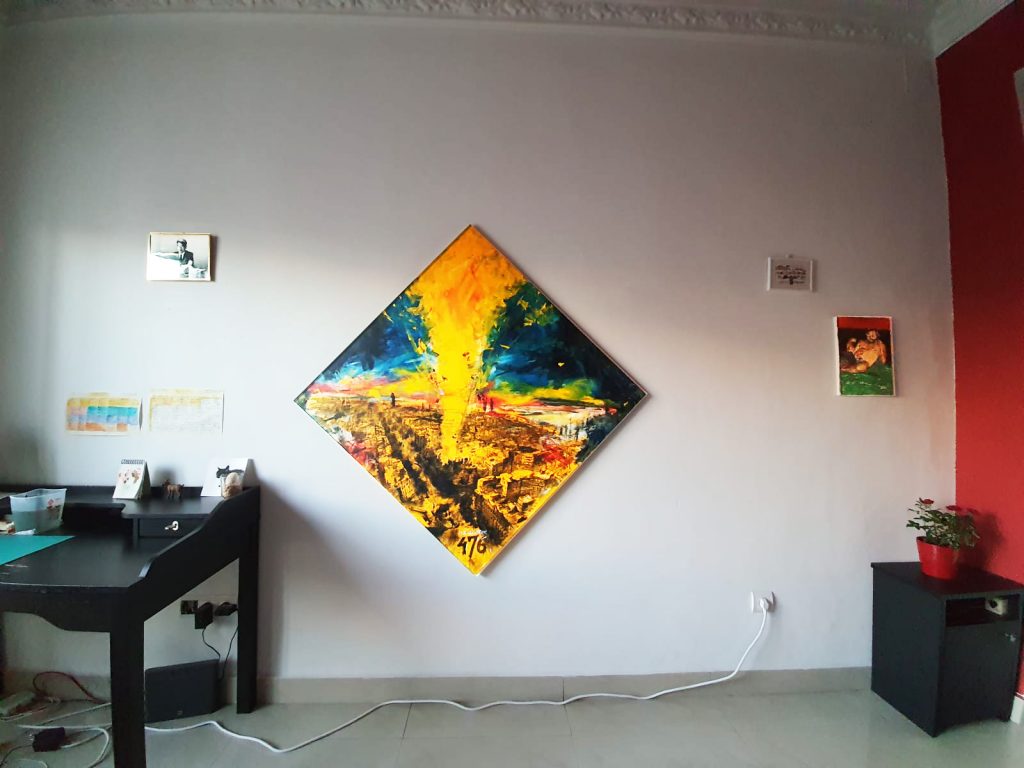 Barcelona … crying and listening to Michael Crețu of Romania's, ENIGMA
2020 ARTWORK made in BARCELONA, plein-air and urbansketch pre-isolation … time to dream and reflect, before the chaos started(october 2019 -march 2020) selected works