Painting with Alis's rusty dust can be fun, but not if you dont know how to do it. And drop more on the paper. Why not ? Looks like an Apocalypse …
Sketch made in 17.01.2020, before Corona Virus arrived.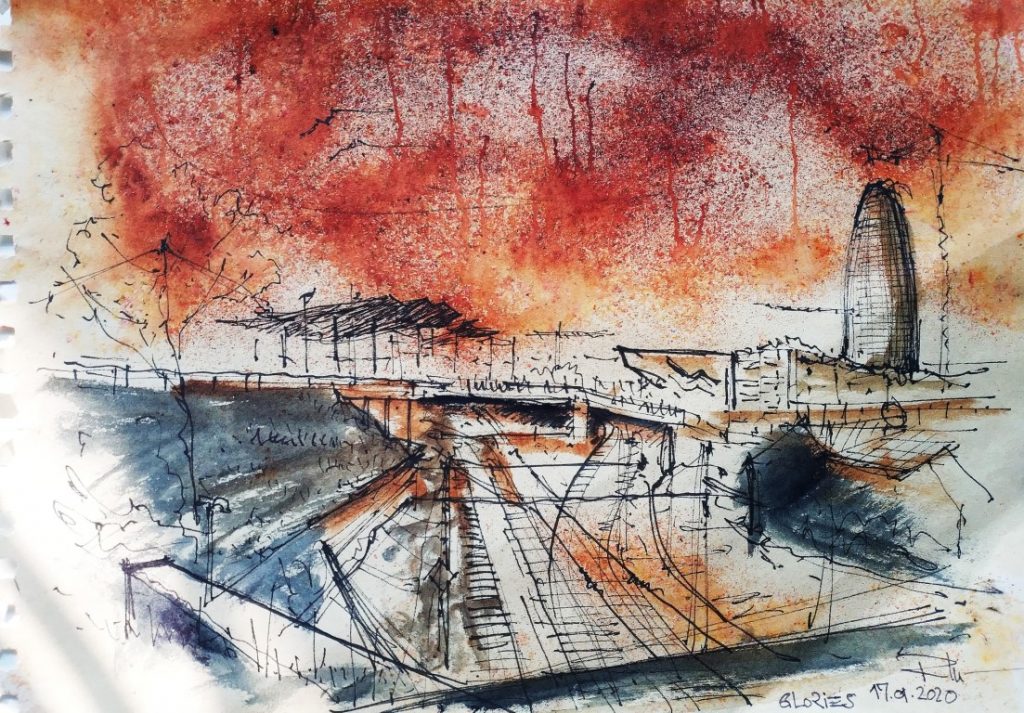 Plaza Glories with Torre Agbar in the background, the railway knot that I love most, leaving Plaza Catalunya and onward North. Trainspotting with the tallest building designed by a top French architect, expert in the arab world (Institut du Monde Arabe is … just amazing) was never this fun. And the Inkyfingers company, well, funny also 🙂 A nice company, as anarquista it can be and shy with strangers … 🙂 Catalans, always skeptical jeje. Also the flea market in the left part of the drawing. This moment was awesome, as trains were flying all over the place … AMB Metro, Sabadell, Terrassa, Tarragona (joking, is the other way around jeje). Glories is such a nice and diverse endpoint, with a big museum and exhibitional complex in the middle. Always thought an exhibition there would be awesome… with Urban Sketchers, how else ? … why go solo when you have such a nice team with you ? Im okay with my bike and some love… if any in this world, but Make them shine like no tommorow !
It is said that love is food for your heart … :)) and if energies mix perfectly, you dont even have to eat anything … happened once at Comana Monastery. Not perfect, but a hint … Solar Monks can truly exist it seems. Godspeed !